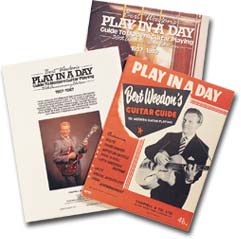 In addition to his playing, he is also a prolific composer and penned such hits as "Ginchy" "Sorry Robbie" and Nashville Boogie" and apart from his reputation as a soloist he is known throughout the world because of his guitar tutor called "Play in a Day". This is probably the best selling tutor in the world and Bert is proud of the fact that most of today's top guitarists have told him that they started their first steps on the guitar with the aid of his book. In fact he has been nicknamed " the Man who taught the world to play the guitar".
His book is printed in several languages and has been published all over the world. Wherever he travels he meets guitarists who have been fans, students and friends. The book has sold over 2 million copies and 30 years on remains the world's most successful guitar tutor. It has been awarded two Golden Pages in recognition of that fact. The first by Chappell Music Ltd for the sale of 1,000,000 copies of "Play in a Day", and the second by International Music Publication for the 30th Anniversary Edition 1957-1987 of "Play in a Day", which was presented by Mike Oldfield on the Terry Wogan TV Show.
Bert originally wrote it because he remembered the difficulty he had as a 12 year old with a battered guitar in his hand and not knowing a thing about it or how to play it. He was determined there would be a tutor that anyone could understand and learn from without a teacher, and by anticipating all the questions that a beginner would ask and answering them in his book, he was able to help most of today's top pop idols on their way to stardom.

Among the star guitarists who have acknowledged Bert's help in their early days through his book "Play in a Day" are :
John Lennon, Paul McCartney, Eric Clapton, Mark Knopfler, Brian May, Pete Townshend, Sting, Mike Oldfield, Mike Read, John Miles, Steve Hillage, plus many more. . . .
Through his book and television tuition it is estimated that Bert Weedon has influenced approximately 4 million guitar players over the past forty years.
There is now a Video called 'Bert Weedon Play In A Day' (click here for full details of this remarkable video). "Learning to play the Guitar has never been so easy."
Don't delay, if you want to Play In A Day: E-mail sales@fabermusic.com or call 01279 82 89 82
Bert hopes to go on helping would be guitarists for many years to come. If you would like to read some of Tips & Hints, click here.
Click here to read what people have said about Bert.